Testing Container Configurations by Mark Seemann
Here's a question I often get:
"Should I test my DI Container configuration?"
The motivation for asking mostly seems to be that people want to know whether or not their applications are correctly wired. That makes sense.
A related question I also often get is whether or not a particular container has a self-test feature? In this post I'll attempt to answer both questions.
Container Self-testing #
Some DI Containers have a method you can invoke to make it perform a consistency check on itself. As an example, StructureMap has the AssertConfigurationIsValid method that, according to documentation does "a full environment test of the configuration of [the] container." It will "try to create every configured instance [...]"
Calling the method is really easy:
container.AssertConfigurationIsValid();
Such a self-test can often be an expensive operation (not only for StructureMap, but in general) because it's basically attempting to create an instance of each and every Service registered in the container. If the configuration is large, it's going to take some time, but it's still going to be faster than performing a manual test of the application.
Two questions remain: Is it worth invoking this method? Why don't all containers have such a method?
The quick answer is that such a method is close to worthless, which also explains why many containers don't include one.
To understand the answer, consider the set of all components contained in the container in this figure: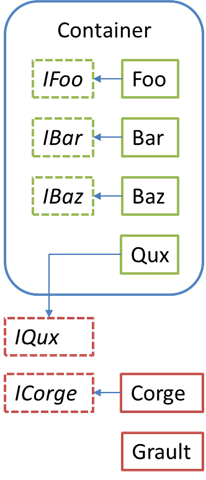 The container contains the set of components IFoo, IBar, IBaz, Foo, Bar, Baz, and Qux so a self-test will try to create a single instance of each of these seven types. If all seven instances can be created, the test succeeds.
All this accomplishes is to verify that the configuration is internally consistent. Even so, an application could require instances of the ICorge, Corge or Grault types which are completely external to the configuration, in which case resolution would fail.
Even more subtly, resolution would also fail whenever the container is queried for an instance of IQux, since this interface isn't part of the configuration, even though it's related to the concrete Qux type which is registered in the container. A self-test only verifies that the concrete Qux class can be resolved, but it never attempts to create an instance of the IQux interface.
In short, the fact that a container's configuration is internally consistent doesn't guarantee that all services required by an application can be served.
Still, you may think that at least a self-test can constitute an early warning system: if the self-test fails, surely it must mean that the configuration is invalid? Unfortunately, that's not true either.
If a container is being configured using Auto-registration/Convention over Configuration to scan one or more assemblies and register certain types contained within, chances are that 'too many' types will end up being registered - particularly if one or more of these assemblies are reusable libraries (as opposed to application-specific assemblies). Often, the number of redundant types added is negligible, but they may make the configuration internally inconsistent. However, if the inconsistency only affects the redundant types, it doesn't matter. The container will still be able to resolve everything the current application requires.
Thus, a container self-test method is worthless.
Then how can the container configuration be tested?
Explicit Testing of Container Configuration #
Since a container self-test doesn't achieve the desired goal, how can we ensure that an application can be composed correctly?
One option is to write an automated integration test (not a unit test) for each service that the application requires. Still, if done manually, you run the risk of forgetting to write a test for a specific service. A better option is to come up with a convention so that you can identify all the services required by a specific application, and then write a convention-based test to verify that the container can resolve them all.
Will this guarantee that the application can be correctly composed?
No, it only guarantees that it can be composed - not that this composition is correct.
Even when a composed instance can be created for each and every service, many things may still be wrong:
Composition is just plain wrong:

Decorators may be missing
Decorators may have been added in the wrong order
The wrong services are injected into consumers (this is more likely to happen when you follow the Reused Abstractions Principle, since there will be multiple concrete implementations of each interface)

Configuration values like connection strings and such are incorrect - e.g. while a connection string is supplied to a constructor, it may not contain the correct values.
Even if everything is correctly composed, the run-time environment may prevent the application from working. As an example, even if an injected connection string is correct, there may not be any connection to the database due to network or security misconfiguration.
In short, a Subcutaneous Test or full System Test is the only way to verify that everything is correctly wired. However, if you have good test coverage at the unit test level, a series of Smoke Tests is all that you need at the System Test level because in general you have good reason to believe that all behavior is correct. The remaining question is whether all this correct behavior can be correctly connected, and that tends to be an all-or-nothing proposition.
Conclusion #
While it would be possible to write a set of convention-based integration tests to verify the configuration of a DI Container, the return of investment is too low since it doesn't remove the need for a set of Smoke Tests at the System Test level.
---
---
Wish to comment?
You can add a comment to this post by
sending me a pull request
. Alternatively, you can discuss this post on Twitter or somewhere else with a permalink. Ping me with the link, and I may respond.
Published:
Wednesday, 21 December 2011 13:25:32 UTC